These Ugi balls are a great addition to any home gym or fitness studio.  Verstatile and easy to work with, they come in various weights to challenge any fitness level.  Soft and pliable, you can add exercises where you throw the ball, lean on it, and more.
Check out the link above to get more info.
A bonus, each Ugi comes with detailed exercises and a diet plan!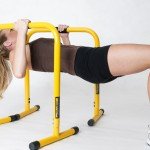 The Lebert Equalizer is another amazing piece of equipment.  As any of you who have been either training with me or doing my classes knows, I have been using them for everything from bootcamps to one on ones.  You can work your entire body with this and it is super easy to hide away or travel with.
Click the photo for more info and to order yours now!